I'm in a Hong Kong state of mind. To my surprise, this concrete jungle – still the no. 1 city with the most high-rise buildings in the world – is a very accessible one. For sure busier than lets say Amsterdam or Lisbon but it doesn't feel that way.
I blame this relaxed vibe on the many walkways. An efficient way of getting around town by foot. A kind of first floor catwalk, above the roads, which connects neighourhoods, hotels, offices, metro stations and – very important – ferry piers. We go with the Hong Kong flow.
Where to sleep in Hong Kong
Staying in a highrise hotel is a must. As is a large window with harbour view. We tick both boxes at the Four Seasons hotel on Hong Kong Island.
Where to eat in Hong Kong
From food stall to the fine-dining-multi-star-restaurant of the moment, Hong Kong is food. With Dim Sum and noodle soup as common culinary theme from breakfast to dinner. Our favourites are:
Lin Heung Lau – one of the oldest tea houses in the city. Crowded, dim sum in bamboo steamers and litres of tea served rapidly. The host appoints where to site at community tables. Don't wait for the dim sum cart to show up at your table, follow the local crowd and do approach when new merchandise hits the floor. Walking distance from the Four Seasons hotel on Hong Kong Island.
Felix – Paris (or better Philippe Starck) meets Hong Kong. Café Costes atmosphere on the top floor of the Peninsula Hotel on Kowloon. The lights in the elevator dim while riding up announcing the  avantgarde world about to enter. We had the Crabalicious Felix Experience menu while gazing at the spectacular skylines.
Fun fact: each seat features a black and white portrait of an employee who works at the hotel for over 30 years to thank them for their dedication. Love!
Lun King Heen – For nine consecutive years *** Michelin star chef Chan Yan Tak of the Four Season hotel shares his culinary Cantonese experience with emphasis on original flavours. The freshest local ingredients are daily picked and go straight to the kitchen, skip the refrigerator since that diminishes the taste. The lunch was amazing, every tasteful bite of the way.
Reservations are a must, booked for months in advance for dinner. Weekdays lunch is a better option.
Duddell's – The Chinese restaurant at the Shanghai Tang Mansion holds a Michelin * restaurant on the 3rd floor and a bar with terrace on the 4th floor. Interior design by Ilse Crawford in mid-century style who also is responsible for Cathay Pacific's impressive business class lounge The Pier. Thumbs up for food and interior. And tableware. Reservations a must.
After food do not forget to check out the flagship store with the purest Chinese silk style staples on the ground floor.
What to do in Hong Kong?
If you only have a few days, you need at least two, it comes down to choices. Going from A to B is already fun since moving around is so efficient and easy on the parallel first floor world.
Shopping tips for Hong Kong are unnecessary since it's all out there right in front of you. From Louis Vuitton warehouses to small trinkets stalls in narrow alleys and from one luxurious mall into another. And many Muji's!
Star Ferry Best way to get around and sight see at the same time. These crossings are a feast and cost next to nothing. As in 0,25 € per ride.
This iconic ferry company dates back to 1888. The charming two-storey boats cross every 10 minutes and connect Kowloon and Central seamlessly. The attendants are dressed in navy uniforms.
The Peak is first on the to see list. If you love touristy stuff, do take the Peak Tram up. The queues made us take a taxi, which is only 15 minutes and costs around 10 € from Central area. Be prepared for Disney style vibes on top but it is great to walk the circle and take in the fascinating 360-degree panoramic view of the enormous city below.
The area between peak and urban is lush and green. Walk down the Pok Fu Lam trail – 40 minutes – towards the University and take a taxi from there.
Man Mo Temple is one of the oldest in Taoist temples in Hong Kong. Wedged between high-rise buildings and small, steep streets. Follow the smokey air of the incense coils, hanging from the ceiling in the left temple. This whole area around Hollywood Road is authentic and definitely an area where East meets West. From street stalls with antiques or Mao's red book to Chanel in one jump.
How to get there?
Hong Kong is home base of Cathay Pacific airlines who serves about no less than 180 international destinations from here. It's a 11,5 hour flight from Amsterdam and flying business class – lucky us – means that the trip really starts the moment you board the plane.
Yes, setting up space in our cubicle is my guilty pleasure. Change sneakers for airline socks, inspect the small amenities pouch and check the movie list. I love long haul flights, the void between sky en earth and feeling disconnected from the world.
As much as I love to be up in the air, I am fully aware that biking is a more sustainable way of getting around. But that requires more than 60 days to roam Asia and the Pacific. With the online Fly Greener! Calculator you'll find the carbon emission from each flight and how to compensate. Sustainable luxury.
disclaimer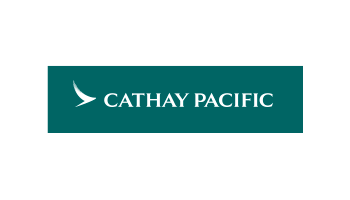 The flights during our unforgetable  #60daysasiapacificjourney are sponsored by Cathay Pacific.

We only collaborate with brands that answer positive to the question: "does it match my lifestyle?". Authenticity is very important to me. Words, photos and opinions are my own.